A quality, detailed, Gold Ring will be such a great addition to anyone's collection.
FREE SHIPPING!
This beautiful Gold ring is available in 10k or 14k.
Please also choose from an solid or open back. A solid back is more heavy and easier to clean and the open back offers a more cost effective option. The detailing on the ring is done in white gold.
The symbols on the side of this ring are as below.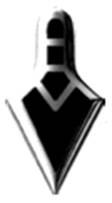 Please Note:
Due the fact that all rings are custom made to size, it takes between 2 and 6 weeks to receive your ring.